Excursions
There's lots to explore around Moyo island if you know where to look! From hidden beaches and spectacular waterfalls to jungle treks and batcaves - there really is something for everyone!
Snorkeling Equipment Hire: 60.000 IDR per person / per day
Discover our house reef from the beach in front of our resort. The shallow reef holds a large variety of marine life and colourful corals for you to explore.
Motorbike Rental: 150.000 IDR per person / per day
Roads on Pulau Moyo are all dirt roads and are not in good condition, for this we advice taking motorbike taxis which we can order for you upon request. If you are a confident motorbike rider and would prefer to explore Moyo island yourselves we can rent a motorbike to you at your own risk.
Matu Jitu Waterfall: 100.000 IDR (motorbkike taxi & entrance fee)2
The world famous Mata Jitu waterfall is where Lady Diana used to bathe. Located a good hours walk from our resort or a 20 minute motorbike ride which we can arrange this for you. This spectacular waterfall is surrounded by rich jungle and forms natural water steps where you can take a dip. The healing waters of Matu Jitu will make you feel like a new human. This is a 'must see' during your time on Pulau Moyo!
Sengelo Waterfall: 950.000 IDR (half day boat charter)
Sengelo Waterfall is another hidden pearl in Pulau Moyo. We'll take a 45 minute boat ride to a secluded beach and then take a 10 minute trek to the waterfall. Sengelo also offers great diving & snorkelling, where you have the chance to spot manta rays! This trip can be completed over half or 1 full day – it's well worth a visit!
Satonda Island: 2.200.000 IDR (boat charter)+ 150.000pp entrance fee and Lunch
Take a 2 hour boat ride to this magical island. You'll have the chance to explore Satonda's large salt water crater which has formed a 70 meter deep lake. In front of the island there is a great spot for snorkelling and a shallow dive to around 20 meters. Baby sharks are often spotted after washing up the dishes from lunch. Satonda Island trip can be combined with the Sengalo Waterfall trip, as it is on the way. This is an full day excursion, including lunch on the boat.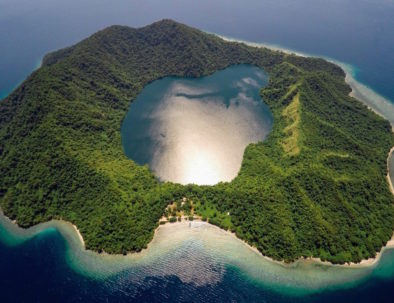 Bat Cave: 750.000 IDR (boat charter) + 50.000pp entrance fee
Take a 30 minute boat trip to a remote part of the island. We'll take a short swim to shore and then a 30 minute trek through the jungle, passing a small local village on the way. After reaching the cave entrance, we'll climb inside and witness hundreds of thousands of bats in their natural habitat. Feel the rush as they swarm above your head! You'll also spot some large pythons chilling in the cold cracks in the rocks. This trip isn't for everyone but is certainly a great experience for the pleasure seekers who appreciate nature!
Diwu Mba'i Waterfall
Located just 30 minutes walk from the resort along a nice shaded path. This local waterfall is a favorrite among the locals with a rope to swing into the 3 meter deep natural pool. A great way to cool off during a sunny afternoon on Moyo.
Raja Sua: 1.100.000 IDR (boat charter)
One hour by boat from Labuan Aji sits Raju Sua. An area of small private beaches where you can relax and enjoy a tasty lunch. This location has some of the best places for snorkeling places around Moyo. With 5m high rock formations underwater which are also great for divers, swimming through an underwater mountain range! This excursion can be combined with the bat cave trip which is located right between each destination.
Mount Tambora
Mount Tambora is located on our neighboring island to the east, and is a popular destination for hikers. We can help organise this hike for you while you are with us in Moyo and can help with transportation to the volcano too. There are 2 trip options to choose from:
4 days / 3 nights
1 person 3,200,000
2 and UP 2,200,000 p.p
5 days / 4 nights
1 person 4,000,000
2 and UP 3,000,000 p.p
Prices include;
- GeoPark entrance fees
- One motorbike per person from Pancasila village to guesthouse and back.
- Two nights guesthouse including meals and drinks.
- Porters to carry logistics only.
- Camping Equipment
- Meals on mountain